While visiting Dresden two years ago, I was impressed by one particular public sculpture to women workers. It was commissioned by the government in recognition of women who had cleared, stone by stone, the rubble that remained after the bombing during the Second World War.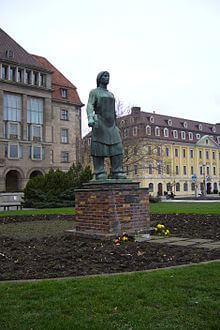 Traummerfrau: in recognition of the women who helped clear and reconstruct Dresden. 90% of the city was destroyed; 25,000 killed in the bombing in 1945
I was reminded of that as I read Noonday by Pat Barker. I read the first two books of her trilogy some years ago. Quite apart from the narrative, which is enthralling, I was fascinated by the realisation that the men who had fought and survived the First World War, the women who had been nurses, at the beginning of the Second World War, were then in their 40s and were called into action again. Men and women worked as ambulance drivers, medics, and helpers during the London Blitz and the bombing in other cities- Hull, my birth place included. I know of no public statues to them. (If you do, please let me know.)
Some of soldiers may have been persuaded that the war which began in 1914 was a war 'to end all wars.' The trauma some experienced in their youth, may have been revisited in middle age. (It is interesting that in Germany, monuments are erected to the survivors rather than the dead.)
I chose to write about the Balkans because it is a region in which war occurs not just to one generation, but several times over many generations. How do people recover, deal with the inevitable physical, mental and emotional traumas that war brings? At what point do people have time to reflect on what has happened to them as an individual, as a family and as a neighbourhood? There are organisations that work towards reconciliation and these may help. I am aware of Peace and Reconciliation organised by Coventry Cathedral, the Truth and Reconciliation Committee in South Africa after the abolition of apartheid in 1994.  Some initiatives have been taken by Leamington and Warwick churches to help Serbs and Croatians sort out practical problems of housing after the 1990s war. (Serbs, for example, occupied what had been the homes of Croatians.)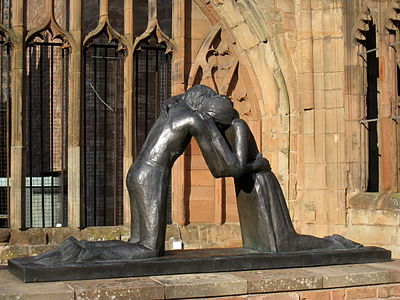 Peace and reconciliation: statue by Josefina de Vasconcellos in St Michael's Cathedral, Coventry.  There is a similar one in Hiroshima Peace park in Japan.
At the end of the First World War, the Serbs erected statues in recognition of the kindness of foreign women's medical aid units. When we visited Leiden we walked through gardens donated by the Japanese at the end of the Second World War.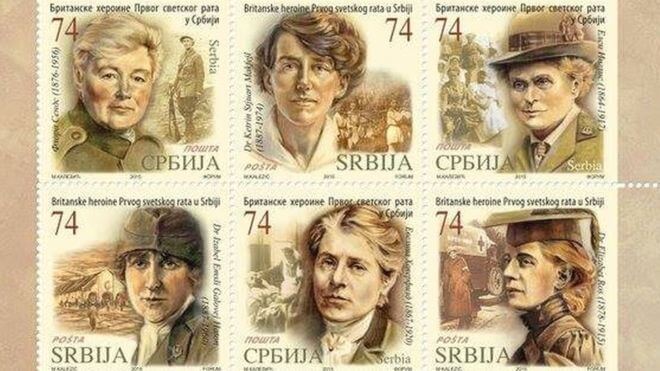 An issue of Serbian stamps in honour of women who helped them during the First World War.
I'd be interested to know if other people have seen similar marks of respect either to a nation who had been the enemy, foreign volunteers or the unseen workers during or after a conflict.