On 2nd June, I approached Judy, the owner of Kenilworth book shop, to ask if there was any way I could promote my novel which she had on her shelves. When she suggested a book signing on 1st July at the end of Independent Bookshop week, I was delighted at the opportunity.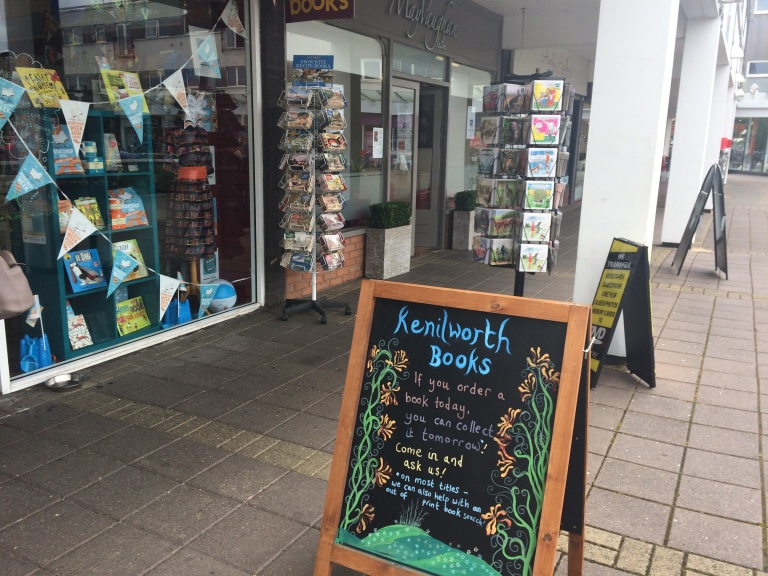 Kenilworth Books, 12 Talisman Square
On the day before, it seemed a crazy idea. Why would anyone buy a book from an author they'd never heard of, about a country which is currently out of the news? Worse than that, I do not enjoy being in the public eye. Obviously, as a poet I've read my work to a variety of audiences- mostly sympathetic, but the occasional disinterested. For those occasions I've rehearsed, as I did for the launch of A Time for Peace and the subsequent readings. Greeting customers is unpredictable and with the idea of making it easier to start a conversation, I selected 3 short extracts to type on A 5 sheets, along with a brief synopsis of the novel.
The experience wasn't dissimilar from the process of writing (though admittedly any embarrassment is unseen).
What is my intention?  It can be specific- to write a poem or vague- to start a new chapter. Sell a novel.
Then it's head down and keep going- a sort of doggedness that ignores the voices that insist you're wasting your time, you're no good. Openness helps. If I'm too rigid about what I want to write, I may miss what the opportunity is presenting. A poem can easily digress to its advantage. In a novel, a character can do something I wasn't quite expecting. Time will tell whether or not it works.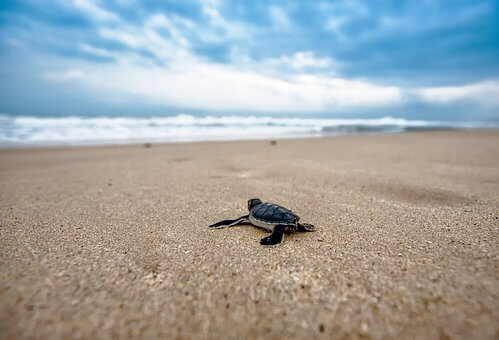 Turtle plodding towards its destination!
Judy and her Saturday assistant, Katherine, were welcoming, helpful and encouraging. I was provided with a table on which to display my work, a chair and a coffee. Thanks to Adam Craig's cover design, A Time for Peace attracted attention.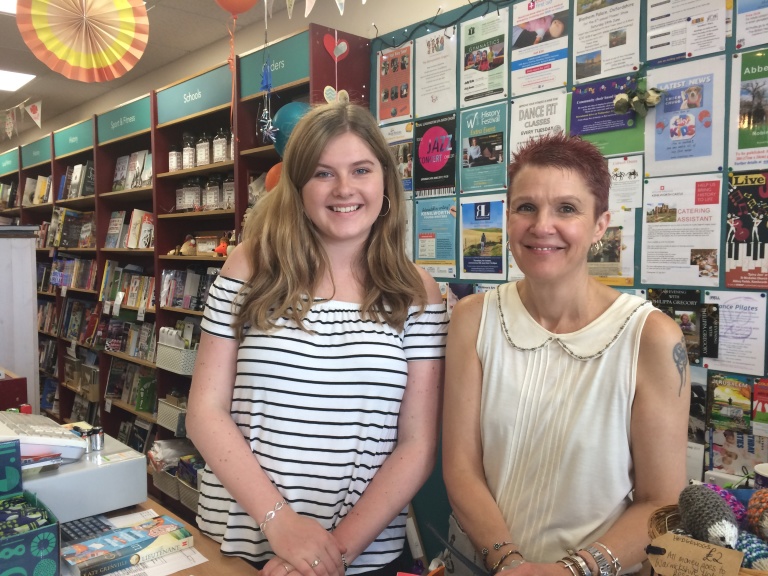 Judy – on the right- the owner and Katherine- her Saturday assistant
I wished I was someone else! Preferably someone who could persuade every customer to buy A Time for Peace.
However, as I relaxed talking to Judy and her customers, I began to enjoy the experience.
Not everyone who came in the shop was looking for a new novel to read. Many of the customers came in to buy a card from the huge selection. Parents and children were attracted by the soap bubbles outside and those who bought a book were given a tube and a balloon as part of the celebration of Independent Book shop week. Some came to collect an order, others to place one or to raise a query. A book club meets in the shop each month I'd an interesting discussion with one reader about how Philippa Gregory's style had changed during the years.
Everyone was polite and mostly interested/curious. When one man nearly bought a copy for a friend, but thought it might be too traumatic for him and I wished I'd written a different novel. I'd a long and fascinating conversation with a French lady who described her family's brave and tragic involvement in the 1st and 2nd World Wars. I met the author of Chatterbox, a local magazine and a self-published poet, Emilie Lauren Jones. Luckily for me, Emilie bought my novel. A fitting end to the morning's work.
A Time for Peace is a thoughtful and gripping novel and will take time to sell. Like writing a poem, or a chapter of a novel, I continue to learn.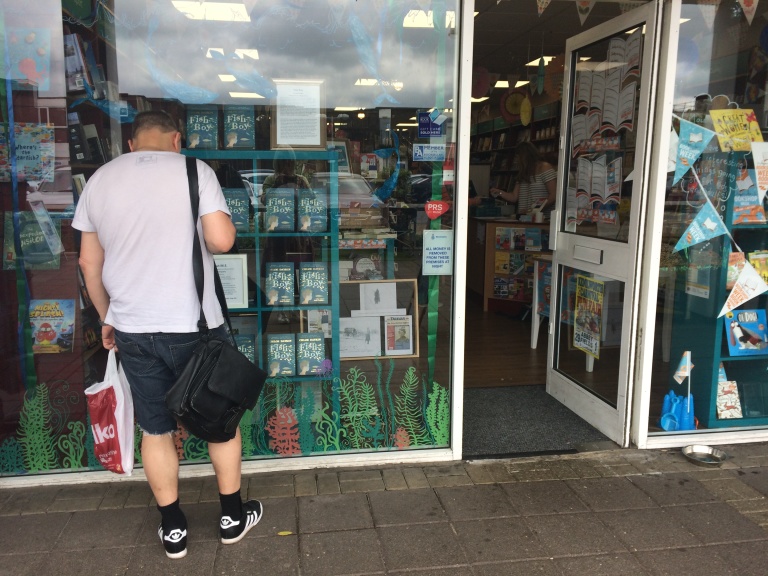 Customer deciding whether or not to venture inside the shop!