Car after car, vans, lorries, double decker buses and a cyclist in red shorts pause five flights below our hotel window. Across the four lanes of traffic, another hotel; its lift slips up and down, down and back up. People drag luggage across the road, pass the British Library, towards St. Pancras.
A horn sounded loudly and persistently wakes me. This hotel in Lyon is 19th century, the bed in a corner, a square carpet in reds, oranges and creams, dominates the room. Floor to ceiling window with cream net curtains, opens to another set of windows and a false balcony. Peer down onto rue Gasparin and its elegant shops.
   Pedestrian bridge across river Saone: from new to old; residents to tourists.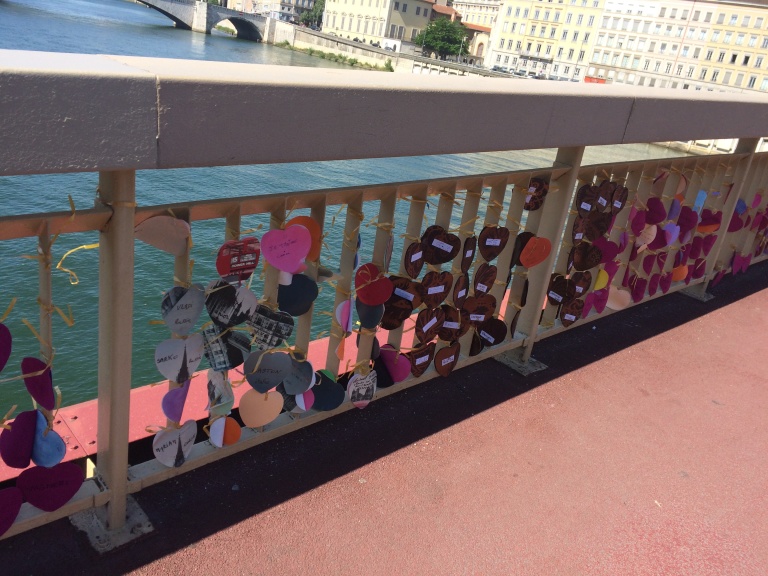 Hearts bought from woman seller and attached to side of the bridge with names and expressions of love
St. Jean was built on the site of 1st cathedral in France, 2nd cathedral after one in Rome. Inside all is quiet and respectful except for workmen engaged on renovations. High above the east and west transept are rose windows of 'good' and 'bad' angels. Lucifer was bad. Had thought all angels, as messengers from God, were good.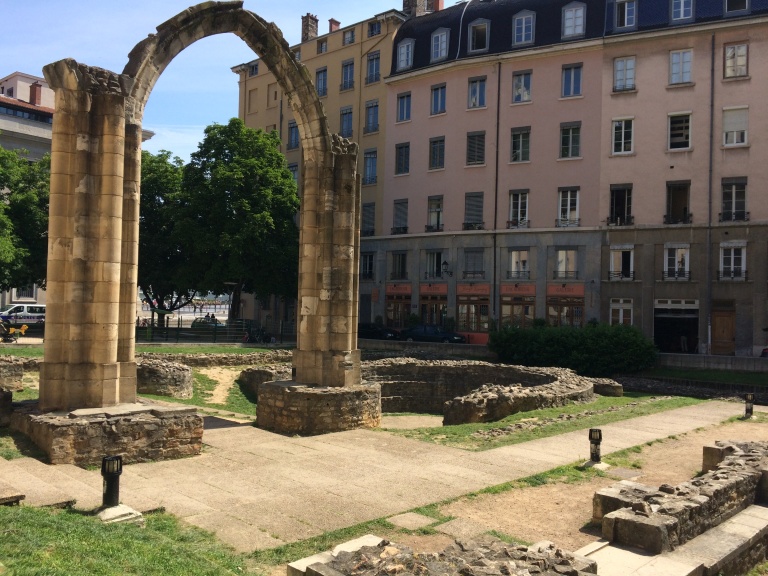 Ruins of original cathedral of St. Jean
Ate evening meal in one of many restaurants/bars on rue merciere, a street recommended by the taxi driver. Discovered place de Jacobin, and a bookshop selling German and English books as well as French.
We travelled by train to Geneva, on to Milan, and in heavy rain and thunder to Florence. The mountains leaving Geneva were like from a film set, snow well settled, the lake glimpsed through houses from the train. In Italy the ground was flooded in parts. Waited an hour outside the station for a taxi, chatted to an American tourist who didn't like Trump, loved the queen. Lift took us to the 4th floor. Climbed to our attic room which we appreciated better in the morning.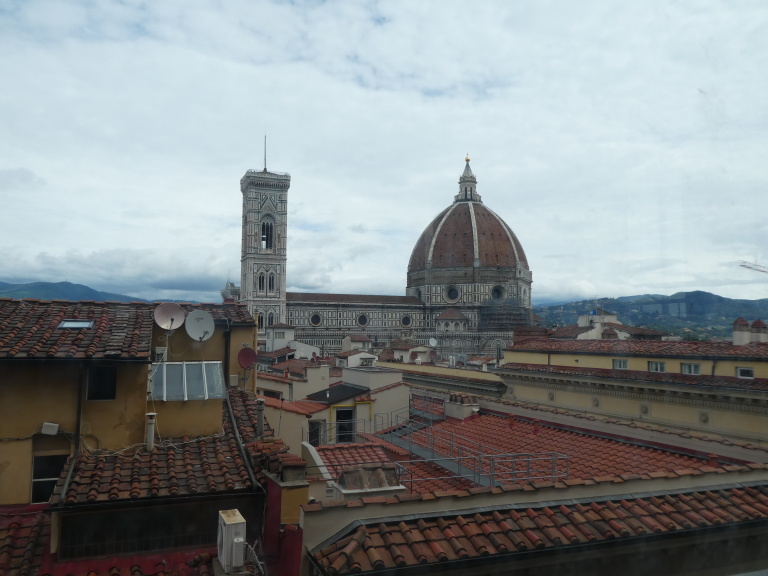 View of the Duomo from Church of Orsanmichele
Cathedral was awesome. Marble. I've not seen anything like it. Went round museum of Brothers of Mercy under the mistaken impression it was Museo dell'Opera dei Duomo. In Piazza della Signoria admired Cellini's bronze Perseus and witnessed Giambologna's Rape of the Sabines.  Ate in La Salmonia, Mercante Centrale. A fish restaurant. I had salad with a variety of fish. Courgettes, strawberries and a light dressing on the fresh salad. The best meal yet.
Walked across Ponte Vecchio.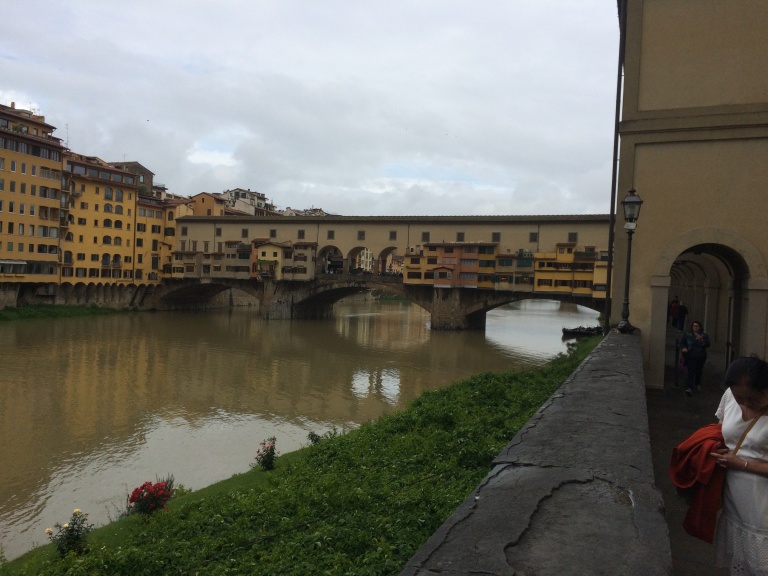 Ponte Vecchio is packed with shops. 
River was yellow from the heavy rain. Everywhere we went there was the push and crush of people: guided and independent tourists like us, many sellers of brollies, beggars.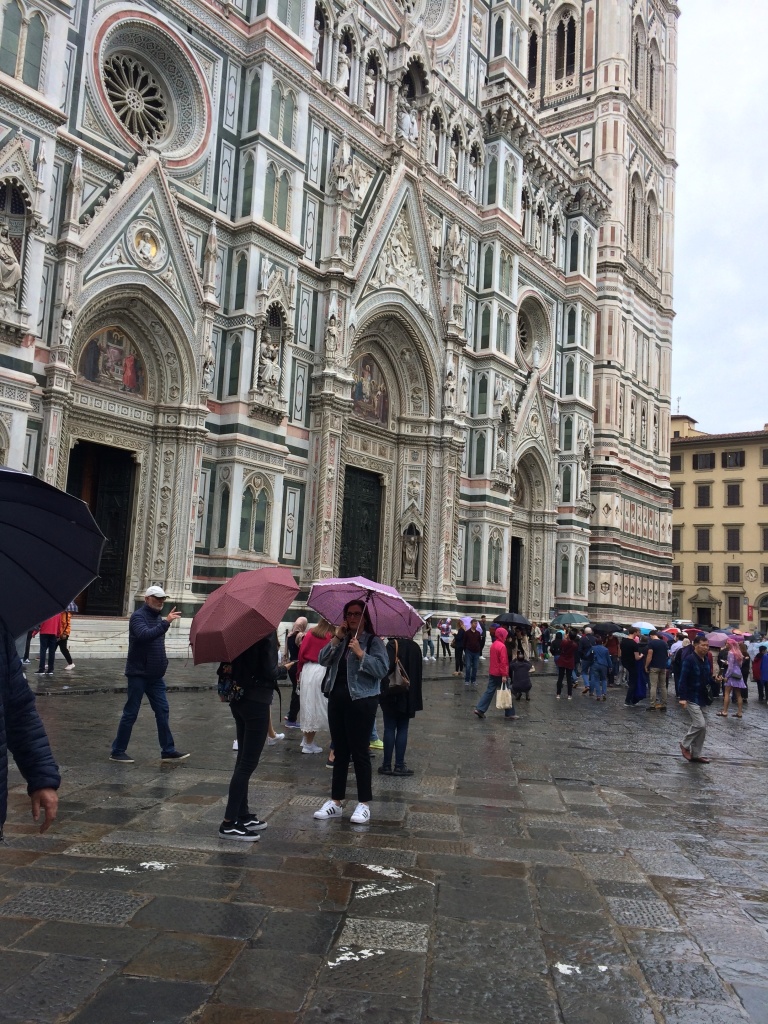 Dom in the rain. No idea what it looks like in the sun.
Florence was less quaint than I expected. It became a World Heritage Site in 1982 because of  its architecture, renaissance art and priceless statues. It was rather like walking round a museum, though sadly there were beggars and it was evident that shop keepers and restaurant owners were desperate for custom. I was glad we had three days to saunter around, seeing things again and again. We walked 7 miles a day.
Loved Pitti Palace and Boboli Gardens, both of which allowed for contemplation.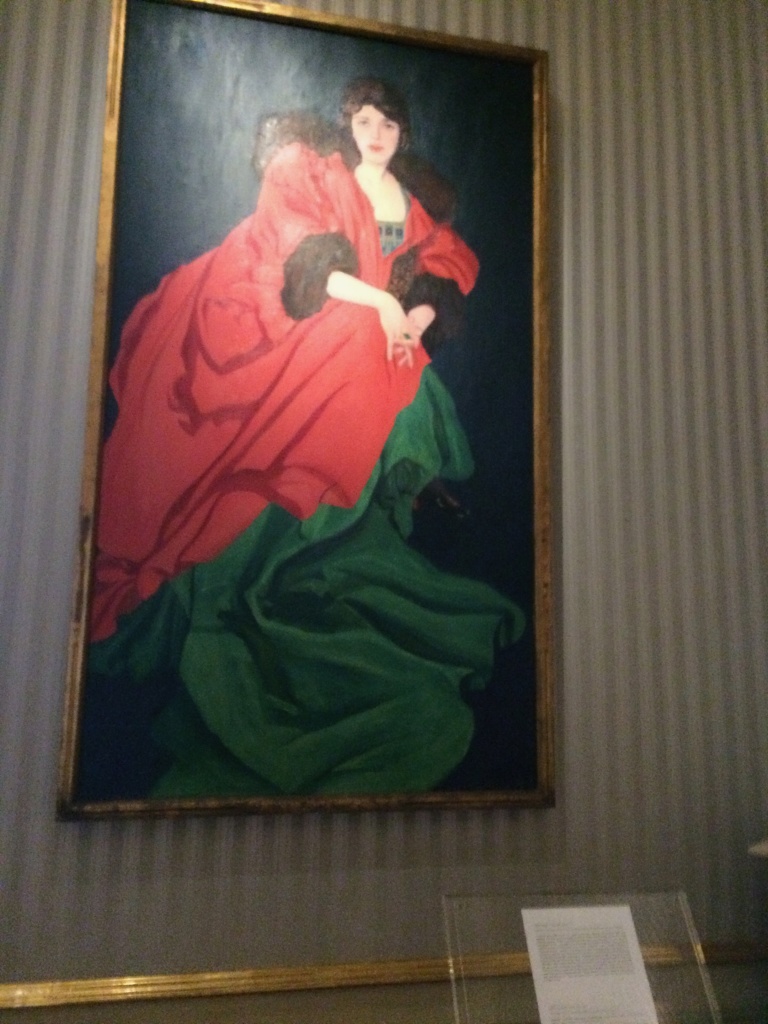 I learned about the Renaissance at school and have long wanted to see the centre of that re-birth of art and architecture. In three days, I was able to imagine what it may have been like.
Now its a sort of museum. Then it would have been a challenge to the church, to the traditional ways of seeing and being. What was revolutionary then, is our conventional.
And so, a final note home. A detail from Paul Day's statue on St Pancras Station.