The morning after I arrived at our caravan in Talybont, I relaxed. When I stood outside I could hear the sea. A two-minute walk and we were on the beach. The regular and relentless movement of the tide brings a perspective hard to find in the busyness of work and routine.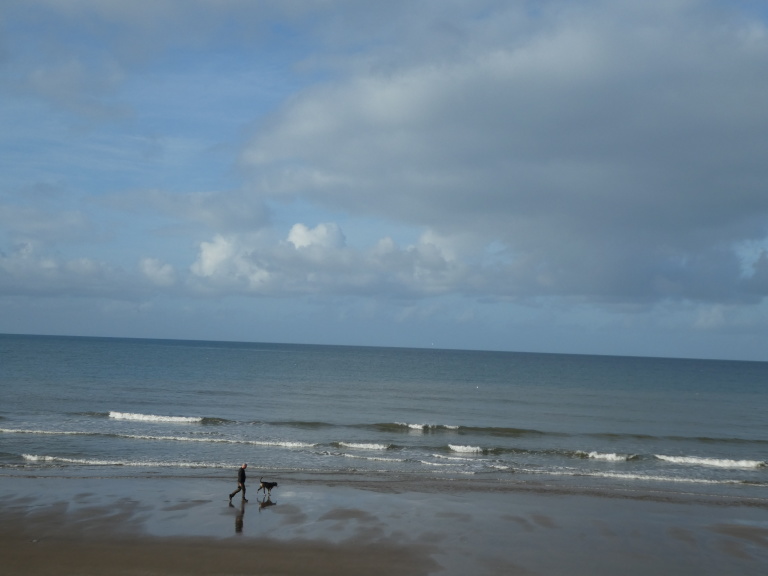 Dog walkers, whatever the weather. 
One of the attractions of the west coast of Wales is the railway line which at times feels to run alongside the rocks and the sea.  The stops between the main stations  have to be requested.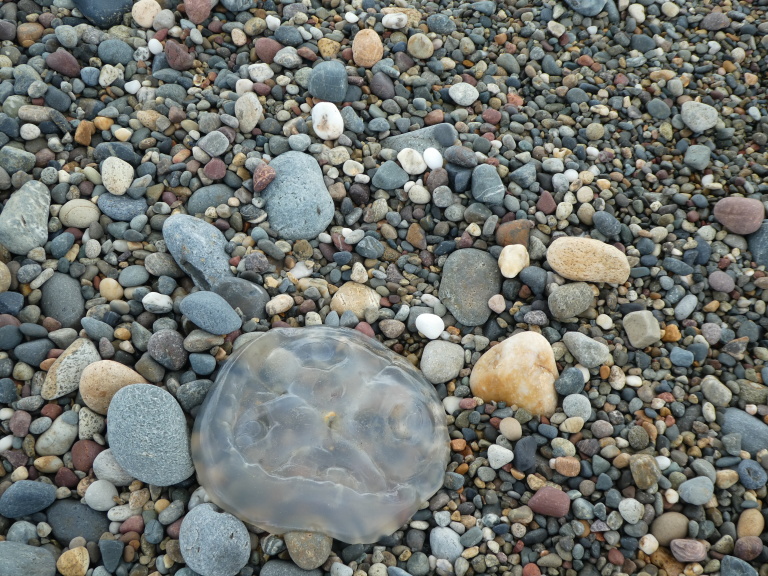 Jelly fish brought in on the tide at Criccieth
From the train which halted outside Harlech, we watched a couple walk on the castle turret path. The man appeared to take a selfie and then one of them both. Hard to work out if it was father/daughter and boy/girl friend.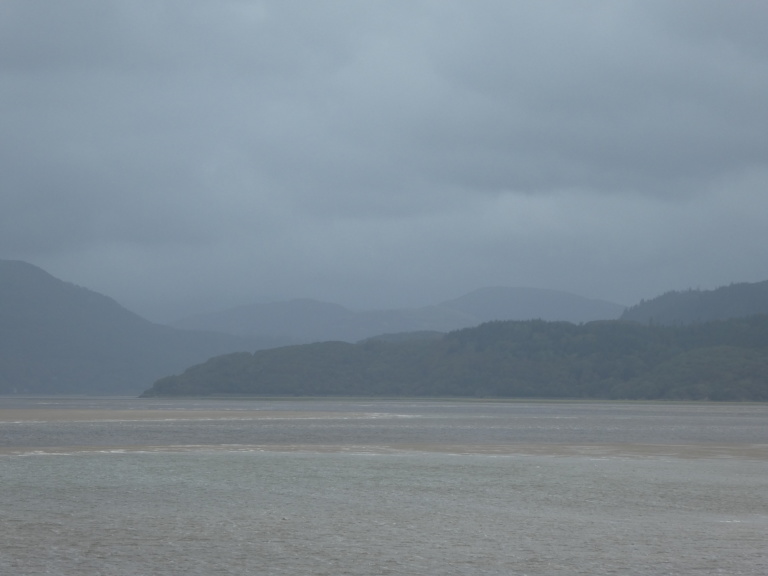 View from Barmouth railway bridge of what I think is Cader Idris. 
On Sunday we walked through Ysygethin woods. The sound of rushing streams so different from the tide. Uprooted trees were strewn on either side of the path. Other trees were given more space to thrive.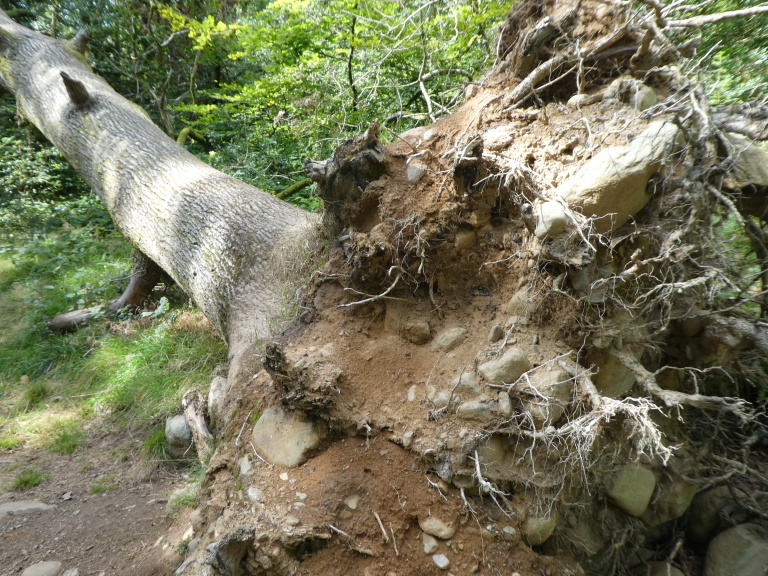 Ysgethin woods
We climbed to a high path which runs along a ridge south to Barmouth. One stone house with washing hanging on a line in the garden.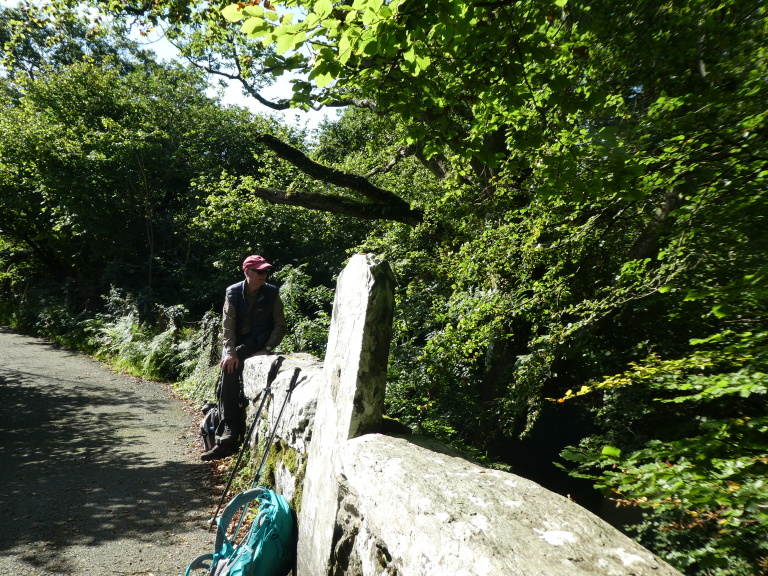 The road was narrow, sufficient for either one car or two motor bikes. 
The village of Penmaenpool on the Mawddach estuary was part of the estate of a Bolton cotton magnate who lived in the grand Penmaenuchef Hall. The village supported a busy timber business. In 1862, the last boat was built there and launched. Charlotte.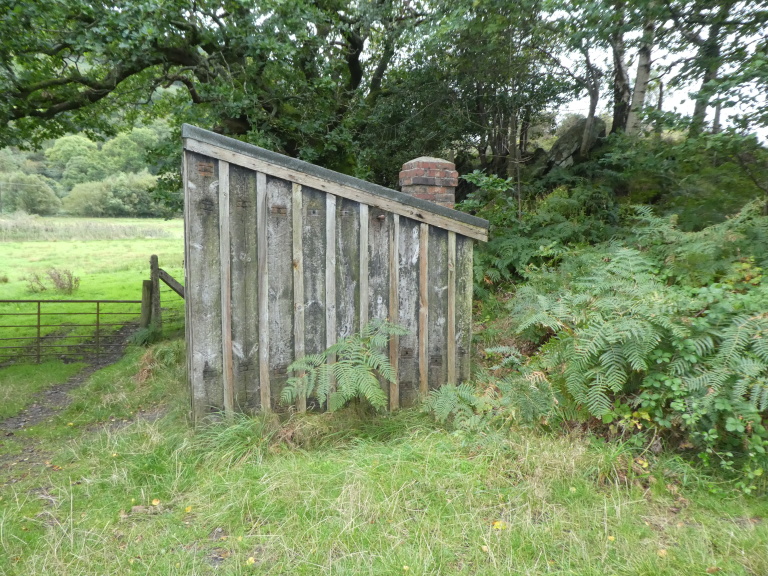 Linesman's hut along the Mawddach Trail. The hut was his shelter and work base equipped with table, chair and simple heating stove.
 This place of beauty was once the scene of heavy industry.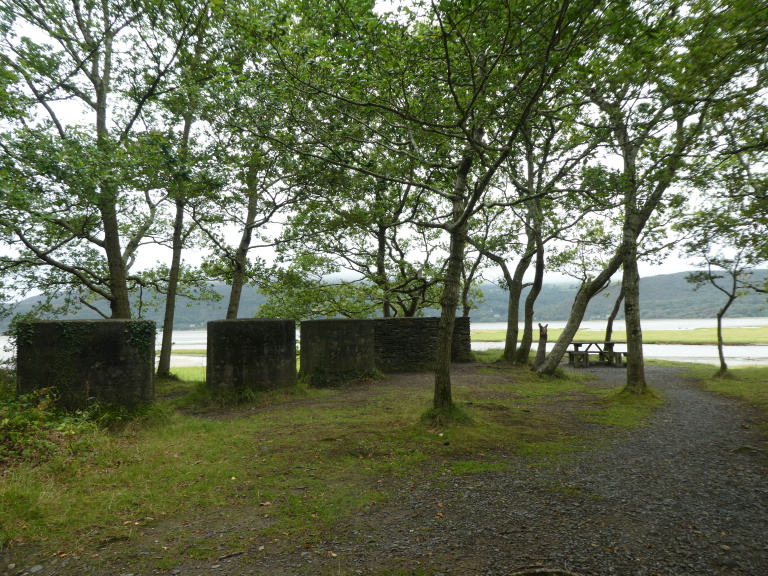 Stone towers built during WW2 to protect the country from invasion – the Germans via Ireland. It is now a tranquil spot with a picnic bench overlooking the river.
On our last evening we ate at George III, once on the Victorian tourist trail. Gerard Manley Hopkins stopped here and penned some verse in the Visitors' Book. The last verse reads:-
Then come who pine for peace or pleasure
Away from counter, court, or school,
Spend here your measure of time and treasure
And taste the treats of Pen Maen Pool.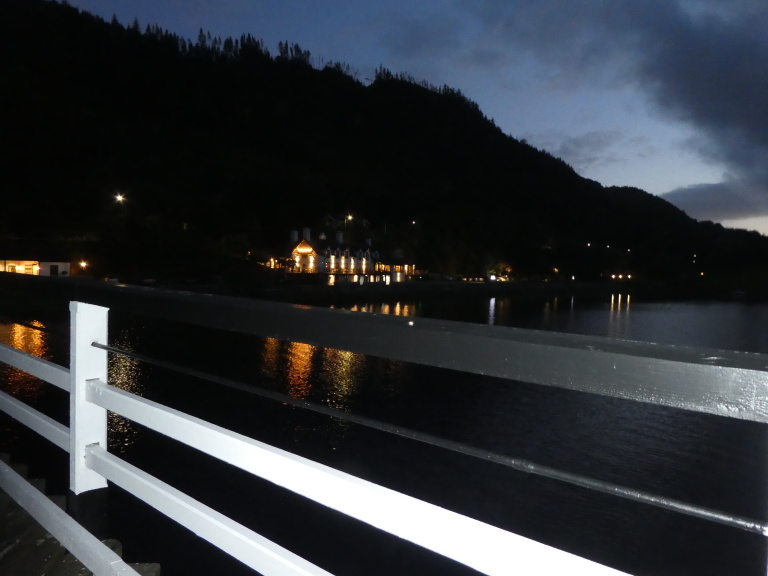 George III from the toll bridge
The hotel/pub was a family business when we visited eighteen months ago. Several people told us that it had been modernised 'beyond recognition' and we hesitated to go back. In fact, it still has character. During the day walkers filled the bar. In the evening a mixture of hotel guests and diners. The atmosphere was as cheerful and friendly as ever.
The change of scenery, the meeting of new people and time to relax had come to an end. We set off on a sunny day through beautiful scenery looking forward to home.