One of the hallmarks of an interesting artist, is their ability to learn. The David Hockney exhibition demonstrated that beautifully. When Hockney was 'blocked'- perhaps bored with his current style- he moved on to another medium. He tried photography, and an I-pad to good effect.
When we stopped in Arles on our cycling holiday, in addition to 8 of Van Gogh canvases, there was a retrospective on the American figurative painter, Alice Neel (1900- 1984). Viewers began with her most recent work, and in progressing into the gallery, moved towards her earliest art college submissions. By retracing the visual history of her life and times, we went back to the 1930s, the second-wave feminism of 1960s, the 1970s and '80s and their social issues. We could watch how her art developed. Initially I wrote 'matured' but corrected myself. The different ages of our lives bring variety- perhaps the wildness and rawness of youth, the tempestuousness of middle years and time to reflect, be more generous with ourselves and others in older age.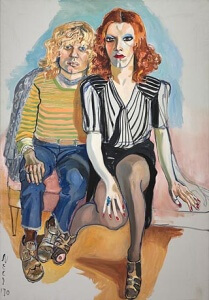 Jackie Curtis and Ritta Redd (1970)
I noted that when Van Gogh voluntarily confined himself to the psychiatric hospital in St. Remy-de-Provence, he took up the motif of one of his favourite masters, Jean Francois Millet because he was unable to go outside to paint. Les Sarcleuses (The women weeders) is in Van Gogh's inimitable style though the inspiration was that of Millet.

It is similar to a process I use to kick-start myself into trying something new. I use a piece of prose from an author I like, or a poem I enjoy, as a template. Even if there is no immediate change, I have started to think in a slightly different way.
Helen Dunmore, whose recent death greatly saddened me, wrote many novels, all obviously her 'voice', but in different settings, with a different focus. I remember hearing Maggie Gee at Warwick Arts Centre comment that it was harder for agents to promote an author whose genre was hard to package. Her novels include 'My Cleaner' and 'The Ice People'.  P.D. James who started a novel with planning the plot in detail, emphasised the importance of learning and using new words during her eighties- an age when some find it difficult to remember familiar words!
My first novel is set in Serbia during the First World War, a country I have passed through but can't claim to 'know'. The current novel is set in the contemporary world of restaurants and their chefs, for which I need to do almost as much research as I did for 1914-15. Jan Fortune travelling through Europe and staying in Budapest to research her latest novel, asks the question, why do writers travel. She writes, 'As a writer the urge to travel, to be touched by a sense of place, has never felt more urgent and I hope the unfamiliarity will make me push the boundaries of what I think and write as the work progresses.'
Not all writers and artists are able to travel physically or very far, but there is something about the challenge of discovery, the insight and excitement of exploring that makes any creative artist and their work interesting.