The final withdrawal of American troops from Afghanistan in August 2021, resulted in many Afghans becoming refugees.
They were afraid of what the rule of the Taliban might mean for them. Though they loved their country, perhaps because they did, they decided to leave.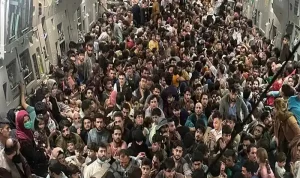 Military cargo plane that left Kabul's Hamid Karzai Airport on evening of Sunday, 15th August 2021
Sadly, this is an all too familiar story. In recent history, citizens have tried to escape their country of origin – often because their lives are in danger.
From Syria, Libya, the Yemen and many other countries. From Europe during World Wars 1 and 2.
I wrote A Time for Peace, to explore how personal relationships can be affected by war.
Ultimately, the Serbs resisted Austrian and German occupation, but in the winter of 1915, victory seemed very far away.
The King, his government, his army and its cadets undertook the arduous journey out of their homeland, through neighbouring countries to Corfu. In effect, they were refugees. The British and French governments supported the army, but many cadets and ordinary people struggled. Thousands died during the journey.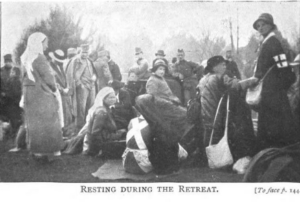 Throughout the war, voluntary medical aids provided help to many countries, regardless which side they were fighting for.
Extract from the novel
In the novel, I described a fictionalised British women's unit, which accompanied 30 cadets. An entry in December 1915, from Ellen Frankland's diary, reads:
Today we covered only 6 miles, stopping outside Mitrovica.
After Raska, the road along the Ibar became difficult. Because of heavy rain and snow in the mountains, frequent landslides and mountain torrents, flood its narrow, zig-zag route.
Having lost our provisions' wagon, we've increasingly relied on gifts of food.

We've had no bread for 2 out of 6 days. All of us are tired and hungry.

Audrey (the doctor) becomes more and more silent as her anxiety increases after each surgery. Kova (frostbite), Velimir and Branislav are particularly weak. Cosic has a fever.

Luckily, the Scottish Women's Hospital donated medical supplies.

The problem is all travellers need food; therefore, prices are high.
One evening, we camped near a group of Serb officers travelling by motor car. They were good enough to share their hamper with us, including a bottle of red wine.

They left us bread and cheese for tomorrow's breakfast. Events like this are restorative.
Writing about trauma from comfort of my own arm chair
I found the chapters about the cadets particularly difficult to write. Research shows that youngsters had lied about their age. They weren't 17, some being as young as 12 or 13.
Their lives had never been as comfortable as ours.
They were unprepared for climbing high mountain passes in one of the worst Balkan winters.
These boys were starving, wore opanki (an open sandal). They didn't have waterproof jackets, warm fleeces and beanies.
They didn't expect to be attacked by robbers. How could they know that two thirds of their friends would die?
  Estimates suggest that 20,000 of the 30,000 cadets perished during that journey.
Having tried to imagine the despair encountered during the Great Serbian Retreat of 1915, I feel great sympathy for modern day refugees.
Like the cadets in 1915, they left their families with hopes for a better future. The politics are complex wherever there are refugees, but I find it impossible to blame them. Solutions, too, are complex. Nonetheless, the starting point is surely recognition that refugees are human beings who probably want the same as many of us. Peace, love of family and community, and security.
References: The photo of the military cargo plane with refugees on board was taken from India.com News Desk 17th August 2021
The photo titled: Resting during the Retreat was taken in November 1915 and can be found in A history of Scottish Women's hospitals – Eva Shaw McLaren pub. 1919
The photo of the Retreat of the Serbian Army to Albania is by an unknown author and can be found in Imperial War museum. It's used on Wikipedia.
Extract from Ellen Frankland's diary can be found in A Time for Peace.