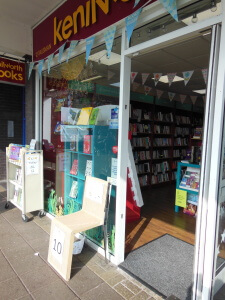 Rather to my surprise Judy Brook, owner of Kenilworth Books told me that it's variety that makes the job interesting. I'd assumed a passion for books and the sort of hard-work/risk taking genes of those who run an independent business were the main ingredients to running the shop. Certainly Judy enjoys reading- Classics, Young adults, the occasional crime and those authors who are part of Kenilworth Arts Festival- this year the popular Kit de Waal.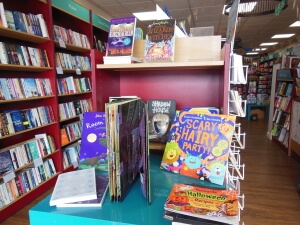 In addition, Judy works a six-day week and some evenings though she takes regular holidays and the one day off. Time with family ( husband and 5 children), and friends is integral to her life. Having been an accountant may have helped her adjust to the business aspect of the job- she reviews takings frequently, comparing them with the previous year. Having taught Business Studies (at Hereward F. E. College in Coventry)  she had the theoretical skills but the practice puts them very much to the test. Commercially the shop is busier than when she took over in December 2014, the plan being to develop what was already a success.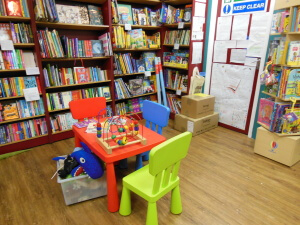 Vibrant welcome for children
The shop was previously owned by Keith and Frances, who had run Warwick Books as well. Frances was helpful during the transition and Tamsin, an assistant, has remained an employee which has ensured continuity. Similarly, reps for publishers, wholesalers, the Booksellers' Association remain largely the same. Many of the customers are loyal though, like all readers, they will buy books elsewhere. Where it's possible Judy will try to match Amazon's price though obviously not with the high priced commercial books- Jamie Oliver, for example.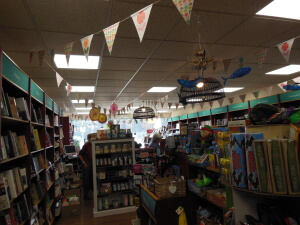 I'm sorry the photo is poor but hope it gives a sense of the busyness of books!
What I hadn't thought about – and I should have done- is the people skills needed to run the shop. Judy talks to people all day! Customers and sales reps, but also the organisers of the Arts Festival, schools and library liaison, on the phone, face-to-face and on social media.
There's also a degree of creativity I'd not considered. The shop displays are colourful and attractive. They change regularly- dependent on a promotion – say Mother's Day, World Book Night,or a shop event that is different from one inspired by national or local promotion. Judy gets some of ideas by looking at other book shops, seeing how they categorise their books and how they display them. If a book looks good, a customer is more inclined to peep inside, decide if it's for them or if they want to buy it for a friend.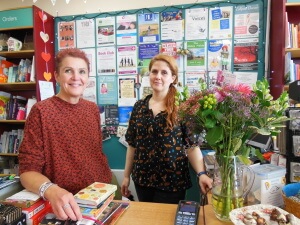 All in all, it is a varied life. Books are central, but so is an interest in people, an openness to what's happening in the whole of the reading community – Kenilworth and beyond.