During the past twenty years, the number of local bookshops has fallen by about a  third. How then, can an independently owned bookshop, in a relatively small town, remain vibrant and relevant to the community?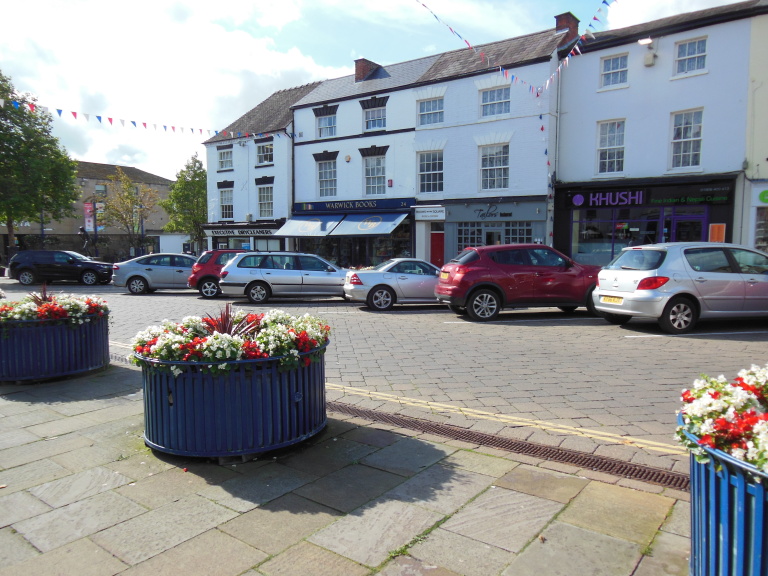 Warwick Books in the Market Square
One reason is the owners Mog and Pauline whom I met for the first time a year ago. Both of them are energetic and enthusiastic – avid readers as you'd expect. Mog loving certain crime writers, politics, current affairs and history, Pauline, from France, is obviously keen on reading in French and travel books, especially Iceland. Having lived and worked in Paris, Mog in retail and Pauline in the charity sector, they opted to run their own business partly because they wanted to work together.  Mog was born in the area, and when Warwick Books became available, they discussed what it would involve with the previous owners, Keith and Frances. They are full of praise for the help they've received since taking over in April 2015: the training and support from Keith and Frances, advice from the Chamber of Commerce and the Booksellers Association, publishers, wholesalers and of course regular local customers.
Rather naively I imagined the skills they would need, would simply be reading, assimilating and being able to recommend books. Their enthusiasm for books lies beyond personal interests and every time I've visited they're giving advice to potential readers.   I presumed they would need business and accounting knowledge, which they have, but they need more. What I'd not considered is that they also need to maintain the property. They share party walls with neighbouring businesses and that may cause problems like the occasional leak they've sorted out. Shop displays make a difference. They're changed regularly and appeal to the artistic eye as well as to that of the reader.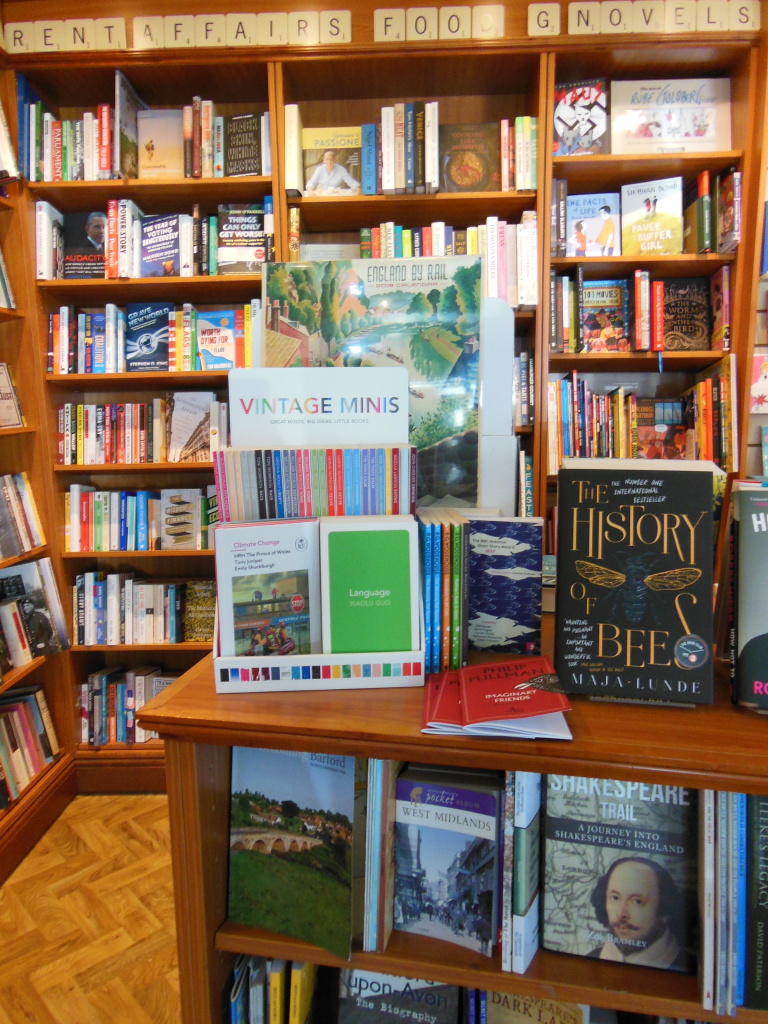 Inside the shop- a display
Their week is varied and long. They take one day off a week, while working some evenings. Physically it seems quite demanding in that books are heavy- dealing not only with shop deliveries, but also with outside events, for example in schools or the Festival venues.  They need to keep up with reading trends and the changing promotion avenues through social media. A lot of time is spent discussing books with sellers and buyers. They sell cards and classic music CDs and upstairs customers can help themselves to coffee while they browse. Downstairs, there are a couple of comfy chairs- ideal for any reader.
Local bookshops are part of the community. Warwick is a tourist town with overnight accommodation available in hotels in the Market Square. Many tourists are tempted to browse.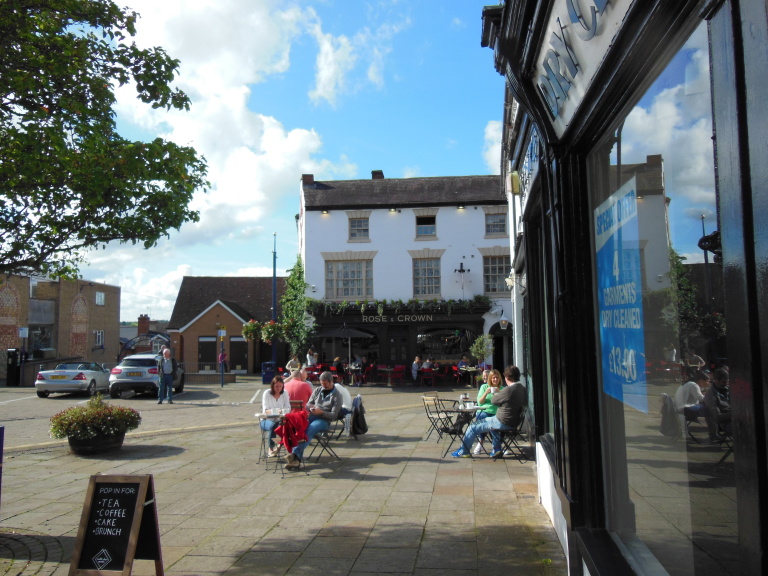 Visitors/tourists relax outside the Rose & Crown
For a number of years Warwick has had a literary festival, last year for the first time, focusing on history. Mog and Pauline are actively involved in discussions with  the Festival's Director, Helen Meeke having some input as to which authors are popular with customers.  Where an author opts to have the bookshop manage the sales, the number of books that are ordered depends on how many tickets have been sold. Some books are sold at the Festival but not in the shop because of an author's agreement  with their publisher. Some writers choose to provide their own books. Mog and Pauline attend as many events as they can during the day, but the shop remains open, so that isn't always possible. They go to the evening events.  They like to get to know local authors in particular so they can better promote their books.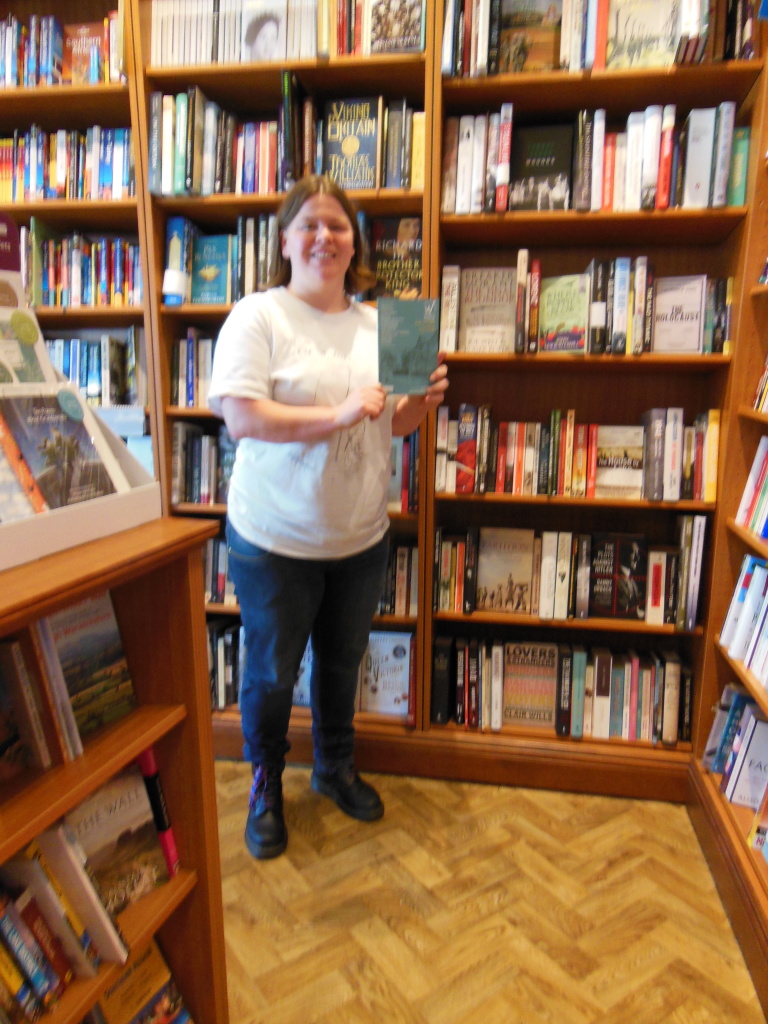 Mog highlighting Warwick History Festival's programme
They are one of the sponsors of the Festival. In particular Alexander McCall Smith who is discussing his recent book of short stories, Chance Developments in St Nicholas Church on 5th October at 12.30pm.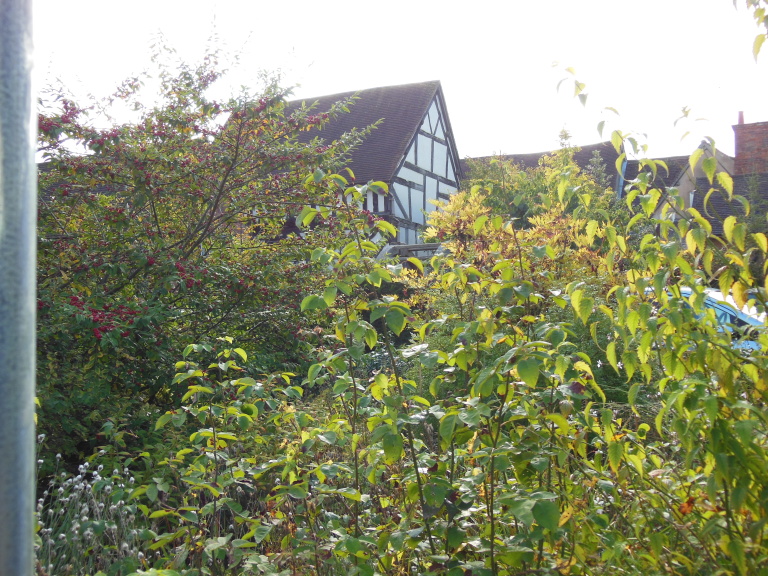 Lord Leycester Hospital, one of the History Festival's venues
There are other events during the year which attract people to the shop. Mothering Sunday. Literary awards. Cultural and seasonal occasions like Halloween and Christmas. They run a book club. They used to run events with the library but because of cutbacks and the fact the library shares with Shire Hall,  that is no longer possible. Local writers are encouraged to give readings and signings.

To be successful, bookshops, like other businesses, need committed, hard-working owners who are able to adapt to changing times. That, I think, is why we still have an independent book shop in Warwick.