When I first started writing, I had no idea: about what I would write- novel, poetry, memoir- or how my life would change. For over 20 years I had been a probation officer, my day varied but dominated by deadlines. As an unpublished writer,  there were no prescribed deadlines so I made my own. I started each day by writing in a cafe, hoping to imbibe the inspiration of the likes of J.K. Rowling. Over the years, I've made many friends and drunk a lot of coffee in a variety of cafes. The focus however was always writing. Whether poetry or prose, whatever the inspiration, I was writing in a place with real, not imagined people around me.
My writing life has changed. Courses provide time out. The writing retreat in Iona has become special, a place where I can recuperate and regain confidence in myself as a person as well as a writer. This year I walked along the path by Martyrs' Bay listening to the sea, to the birds and the lambs, watching how the tide changed the patterns on the sand.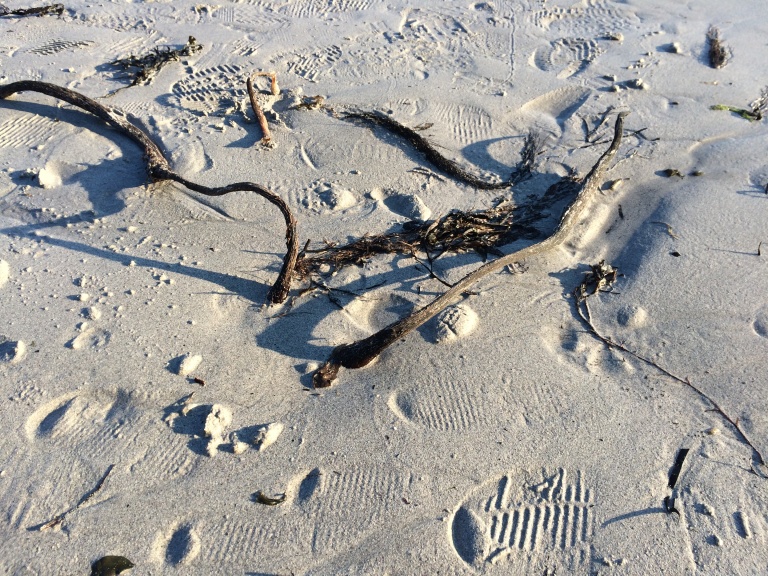 Foot prints on the beach at Martyr's Bay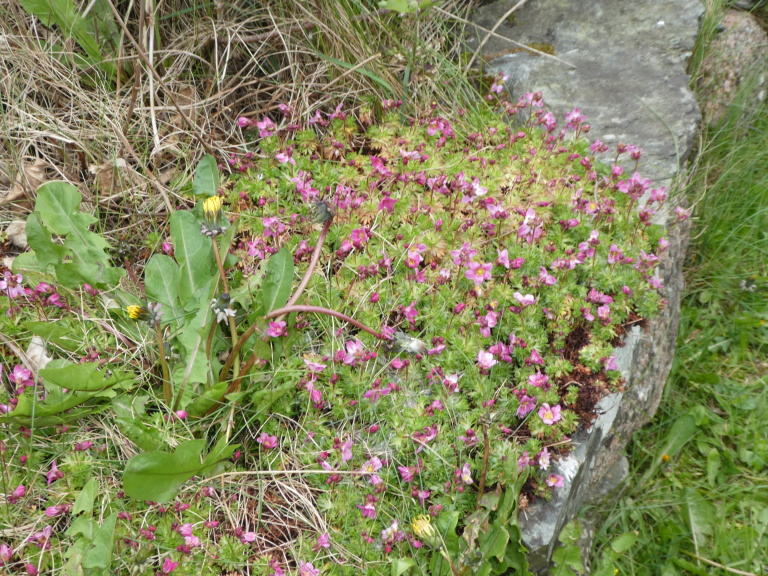 Toad flax in ruins of the nunnery
The nunnery, St. Odhan's church, the Abbey and the varied bays are different each year, each day. The quiet, the time to reflect listening to poetry, talking to the women I meet are all special. Despite the weather and an erratic mobile connection I wasn't totally cut off from home, but the absence of chores made for a rich writing life.
I came way with a list of books to read, poems to develop, photos and of course memories to treasure.
After A Time for Peace was published, I looked for opportunities to talk about my novel and the writing life. Most recently, on Sunday, 27th April I was one of several writers and readers who attended Hawkesbury Literary Festival. I took part in an event: Around the World in 8ish Books. Authors read from novels written not only in different places but in different times- past, future and present. The challenge was to read an extract of no more than 3 minutes. The audience sampled extracts from novels and hopefully would be tempted to buy one, if not then, perhaps on another occasion.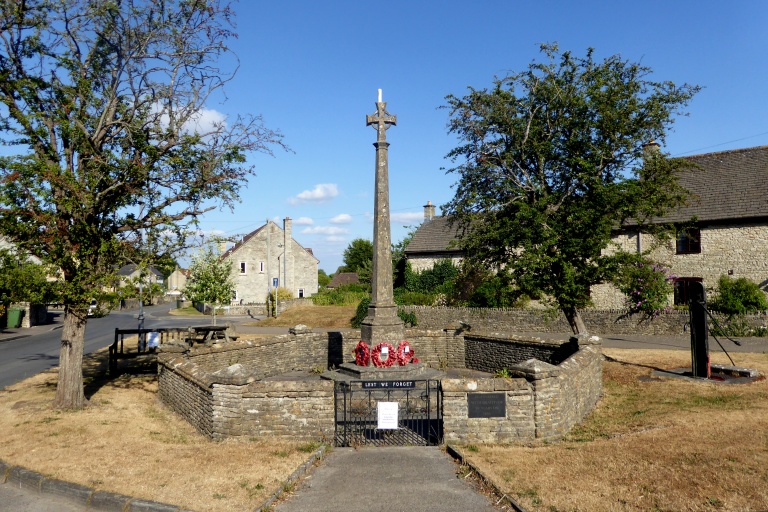 Memorial to those killed from Hawkesbury Upton during WW1
Debbie Young, herself a writer, is the Festival Director.
Events took place at different venues in the picturesque Cotswold village. And what a choice there was ! 6 Talks, 5 workshops, 4 Readings, 5 Panel conversations and series of activities for children and teens, took place between 10.00am and 5.30 pm.  I enjoyed a talk by Dr. Gerri Kimber, which has prompted me to re-read Katherine Mansfield's short stories, which are deceptively simple but so cleverly written.  I was fascinated by a discussion about the impact of WW2 on civilians by 3 novelists. There were 2 pubs and an art exhibition, plus a guided tour of the parish church.The cafe was superb, providing coffee, soup, sandwiches and wonderful cakes.
During this coming week, Belinda Roberts has organised a Fringe book shop at Stratford Literary Festival . Primarily for self-published writers, the shop also  encourages writers who are published by small publishers to display their work. Alongside the big names, are a series events for less  well-known  writers.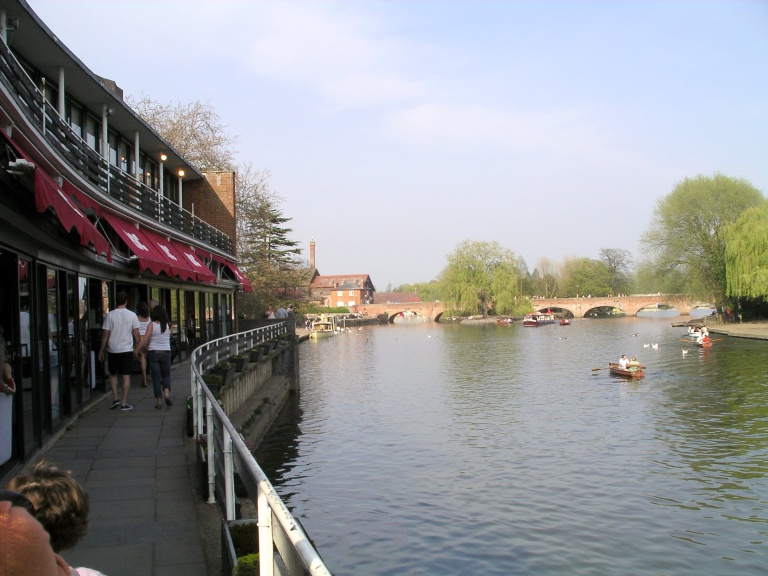 River Avon, Stratford
I love talking to writers- learning what inspired them, how they keep going despite setbacks and what they're planning next. At Hawkesbury Upton, I met 2 sisters who came across the manuscript of a novel their mother had written. It was set during WW2 and wasn't published during her lifetime. Having modified it, one sister doing most of the work,  the other playing a significant advisory role, they have now published it. At the Fringe event at Stratford, I met a writer who has published the diary of a relative in WW1. The actual entries are included but because they were hard to read, are typed out with commentary.
This writing life is so interesting, so absorbing.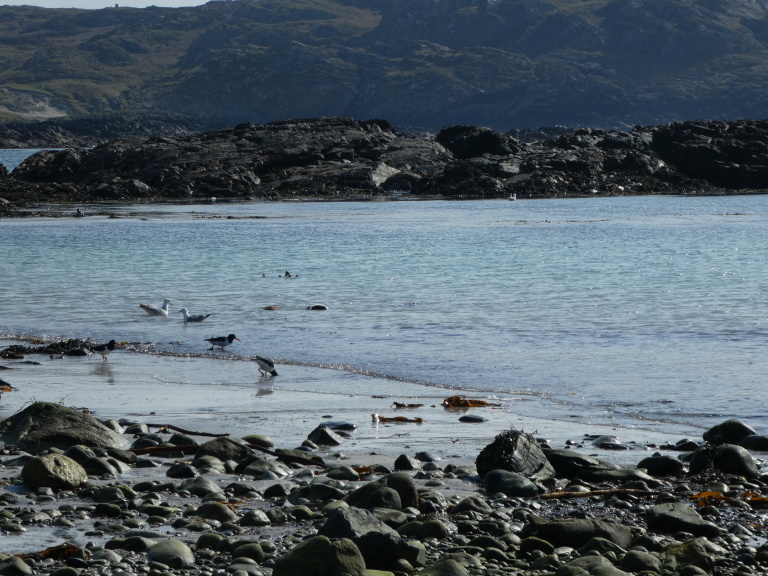 Oyster catchers on Bay at the Back of the Ocean, Iona
References:
Roselle Angwin- A Trick of the Light    and website https://roselle-angwin.co.uk
Debbie Young: https://authordebbieyoung.com/books
Gillian Fernandez Morton- Bombweed, a novel
Belinda Roberts: SLF- Fringe organiser and children's author and website: belinda roberts.net