Before the Referendum, Jan Fortune, editor of Cinnamon Press wrote:
'Freedom of movement doesn't only give business a much expanded work force, but also brings European artists, thinkers and writers into our creative networks, whilst British artists and writers have much more ability to live and work in other cultures or find audiences across Europe.'
One of Cinnamon's writers, Annika Milisic-Stanley, has held readings of Disobedient Wife, not only in London and Dorset but Rome. Her novel is set in Tajikistan and appeals to a wide range of people in Europe ( including U.K.).
Frequently, I go on  holiday in Europe with my husband. We've taken our bikes on the ferry from an English port and having booked the first night, move on when our legs have recovered or we've seen what we've wanted. We've have many interesting conversations with a variety of people from different countries. It has helped to make us Europeans.We listen on the News about floods in areas in which we've cycled or walked. We have some idea of the towns where the European cup is being played this year. My husband speaks German well, I can get by in French. The wider perspective gives a deeper understanding of our own culture, its diversity and how it connects with other countries.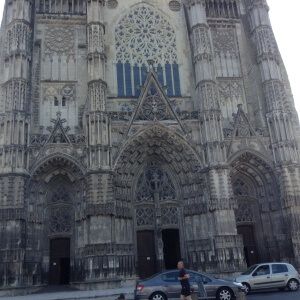 Tours cathedral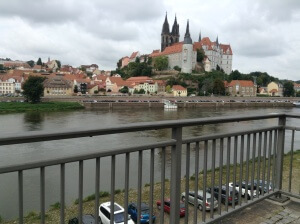 Meissen
Thus, on the day after the Referendum I felt a part of me had died. I felt a little less certain about my place in UK.I had lived under the illusion that the majority of people in the UK wanted a connection with the EU to foster that connection.
On that Friday, I couldn't settle to write. Instead I spent the afternoon reading poems, mainly love poems. I'm working with a local residential home towards a reading of favourite poems about love. They will choose theirs.  I chose ten including Come Back- C.V. Cavity, From the Irish- Ian Duhig, Birdsong at the Rec- Jo Bell and There comes a Time – Cathy Whittaker.
Poetry can comfort in the two senses of 'sooth' and 'strengthen.'