At a recent meeting of our writers' group, Novelink (one of whom took part by email), we discussed the use of flashbacks and backstory in our work. We were talking about novels for which we had written the first, creative draft. These are my thoughts on the subject following our discussion.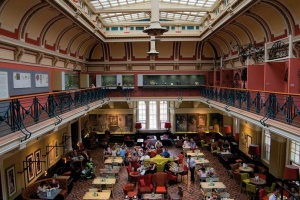 Edwardian Tearooms, Birmingham where we meet
If 'a flashback is a scene that happens before the present story begins' according to Sol Stein, its purpose is to illuminate the present.
Don't
1. Include a flashback until you've created the need and desire in the reader to know about the incident.
2. Overload flashbacks at the beginning of a novel.
3. Allow them to Interrupt  action. It distracts.
Do
1. Slip in the transition from present to past unobtrusively where it's a relevant comment to the story.
2. Introduce with a signal- an image- and then return to that image to bring the reader back to the present.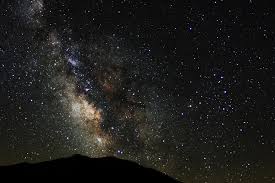 Flashes in the night sky
If 'backstory is the trauma that burns the characters before page 1′, according to Robert J Ray, a flashback is one way of introducing that trauma. Others include:
1. A document.- photo, diary, letter, journal, video diary;describe or quote from it.
2. Dialogue in which characters talk about the past with one knowing more than the other. (Beware of information dump!)
3. Introduce an object: a dress/trousers that no longer fit/no longer in fashion. Coins or an object evocative of the character's past.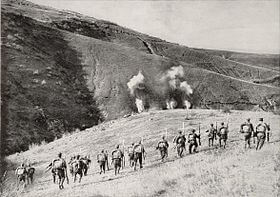 Flashes of gunfire- action in Serbia during 1st World War
'If 'ghost' in a story is a past event that still haunts the character', as John Truby suggests, it forms a major  part of the main character: Desire drives, Ghost holds back. The haunting is the fear that is stopping the character from action, from changing. That ghost is part of the story from the beginning. Flashbacks will show the trauma, backstory will show how that prevents the character from changing.
Quite often we write instinctively. It is only when we, or our readers, get stuck, do we need to think about this subject.
Please let me know your thoughts whether you're a reader or a writer.
Reading for Writing
The weekend Novelist Redrafts the novel- Robert J. Ray pub. A&C Black
Solutions for Writers- Sol Stein pub. Souvenir Press
The Anatomy of Story- John Truby pub. Faber & Faber