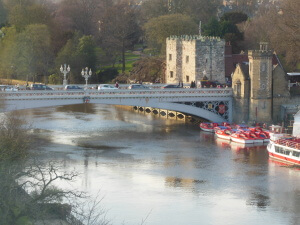 Lendal bridge across the Ouse on the morning of 25th March 2017
York and libraries hold a lot of memories for me. I've borrowed from and studied in libraries for as long as I can remember. Public, school, college, university and while researching A Time for Peace, many others. I lived in Yorkshire till I was 11 years old and York was a day trip destination. In my 20s I trained as a teacher at what was then St. John's training college and I studied in the library* where we Cinnamon Press 1st World War novelists took part in this year's Literary Festival.
Jan Fortune, Editor of Cinnamon Press, gave us a running order, guidance as to what she might say about each of our novels, and 3 prepared questions. It was good that the 4 of us- Jan, Jane Austin, Rebecca Gethin and myself- met for lunch before hand. Jane, who had set up this opportunity, guided us to Bennet's, a local cafe, where her writers' group meets in very comfortable circumstances. The cafe is downstairs, table and chair, plus armchairs upstairs. During that hour or so, we became friends, learning what we had in common and the differences, which always interest me. We are all northerners, all 4 are novelists. Jane and I write poetry (mine published in magazines), Jan and Rebecca having anthologies published.
Thanks to Jane and the festival organisers, we had an attentive audience,and in terms of numbers, around 50. Outside, the streets were busy with shoppers, St Mary's Abbey gardens full of tourists, many sitting on the grass in the sunshine. Tourists strolled along the walls, others relaxed on river boats. So I was impressed that so many were prepared to spend a couple of hours indoors. I was also pleased to be re-introduced to Meredith, a friend of a friend who now lives in York and is researching the effect of the 1st World war on that city. A social media friend of Rebecca's arrived to introduce herself. The atmosphere was relaxed and interested.
Will I ever learn to chill and enjoy such occasions? I hope so. At one level, I do. At another, a touch of anxiety.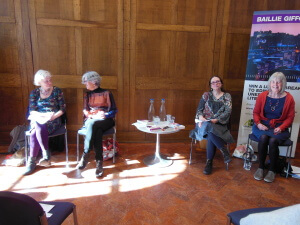 From the left: Rebecca Gethin, Jane Austin, Jan Fortune and me.
Though I'd read Rebecca's What the horses heard and Jane's News from Nowhere, it is a very different experience to hear an author's talk about her work. I particularly enjoyed Rebecca's extract,a description of hands. Cass's father hands: 'pulled old hens' necks, slipped a bit into a horse's mouth, punched holes in the ice- finishing with pulled lambs from out of ewes, pinched their clogged noses to let them breathe their first breath.'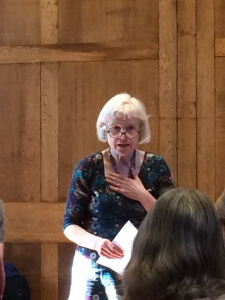 Jane's novel was inspired by family letters and knowing that added to the poignancy of her reading of an early letter to Bronwyn from her brother at the front. He writes of the desecration of the cemetery after the bombing- 'Every single tombstone smashed, the bodies raised from the dead, scattered about the churchyard like poor abandoned scarecrows.'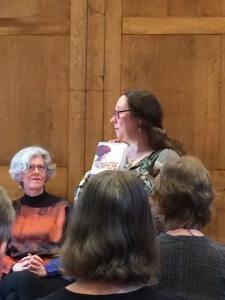 Jan Fortune, editor of Cinnamon Press introduces Jane's novel
The audience asked questions about our choice of titles for the novels and they seemed particularly interested in the role of strong women during the war. Afterwards I chatted to members of the audience who were enthusiastic. Some bought books, some asked us to sign them, which was wonderful. One woman I spoke to had visited the same libraries as I had- the Red Cross, Florence Nightingale, Welcombe museum and was fascinated by the stories she unearthed in the letters.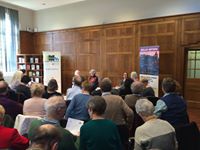 Part of the audience in the panelled room
I would like to thank the festival for organising the event so well, and Jan Fortune for not only publishing our books in the first place, but encouraging us to take part in many different ways of getting our novels to potential readers.
What I knew as the library is now Explore, a place where children and adults are encouraged to explore by reading.