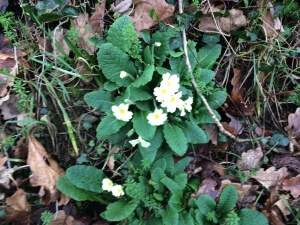 In war a retreat can be a strategy of failure, an indication that the army and its country has over reached itself, but not always. During World War One, the Serbian government, its army, its cadets and some of its people withdrew to the island of Corfu. There, assisted by its allies its troops rested, re-built their strength and with fresh military support, it returned to battle. In exile, the government was able to negotiate and though the price was high in terms of lives lost, the Serbs were able to return home and live in peace.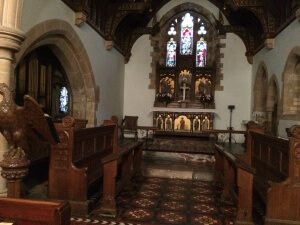 St. Lawrence Church, Sheepwash
Throughout my working life, I've taken time out. Now and again I used to spend a day at Offchurch Retreat house. In those days, I was so tired I spent much of my time asleep though I benefitted from the silence, from a short local walk.
Since becoming a writer my withdrawal from routine has a different purpose. Certainly I look for quietness and a time to reflect, but the focus is both personal and professional- to the extent that I work out where I'm going with a specific piece of work. Or indeed, if I need to re-think the project.
At the end of January I was fortunate to discover Retreats for You, described as 'your home from home- space away from work, chores, family and distractions.' It lived up to its description, other than my work is writing and  that I chose to take my work with me. Nonetheless, the house and its facilities are perfect for someone who needs time to themselves for whatever reason.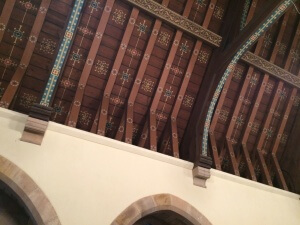 Hammer beam roof, St Lawrence Church, Sheepwash
I took the latest draft of my novel to read through and decide whether it was finished or whether it required further changes. I was there for three days and a bit- arriving on the first day at around half three. It suited me to do my reading around the meals which can be eaten on your own in your room or with other guests. I chose the latter. I was lucky that both were writers though we talked about our families, our lives as well as how we stay positive in a changing and competitive world.
I had a single room in which was: double bed, chest of drawers, bedside table with lamp, desk with an angle-poise lamp, kettle; there was a clothes' rail, shelf with spare blankets and pillows, dressing gown and slippers and plenty of plugs for laptops, re-charging batteries. The Wifi connection worked well and I was able to make calls on my mobile.
The food was superb. We had curry, pasta dishes, lots of vegetables, home-made desserts (my favourite treacle tart) and biscuits and fruit available at any time. Though the weather wasn't conducive to slow walks, there was a choice along the lanes in four directions. Wellies were available for those who wanted to slop through the water-logged fields by the river Torridge. I took the easy option and walked to the pack horse bridge to watch the swirling waters.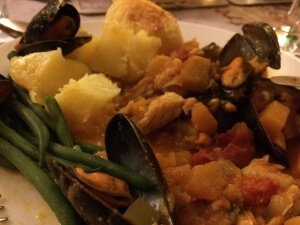 Fish stew made by Wendy
The company was good. Debbie and Wendy who run it usually joined us for the evening meal. If we wanted we could have a glass of wine in our room at six- that was something to look forward to. The community shop was open most days and the volunteers who ran it were friendly and helpful about the history of the village. There is one church and two chapels, the church being open to visitors as early as eight in the morning.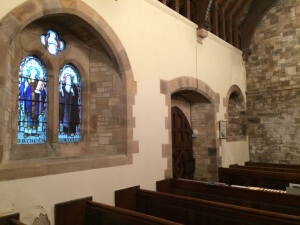 Stained glass windows in St. Lawrence Church, Sheepwash
I read through the novel and the structure was stronger than at the last reading. When I returned home to continue the analysis and decide where to start with the alterations, I was quite put out by the distractions. Not the regular breaks for meals- those I love- but phone calls from no-one, callers- not always for us- the chores that have to be done in order to eat and live in a comfortable home. It made me appreciate the time I'd spent on retreat.
https://www.retreatsforyou.co.uk
Frances Liardet- We must be brave- March 2019. Fourth Estate. Frances was one of the other guests.